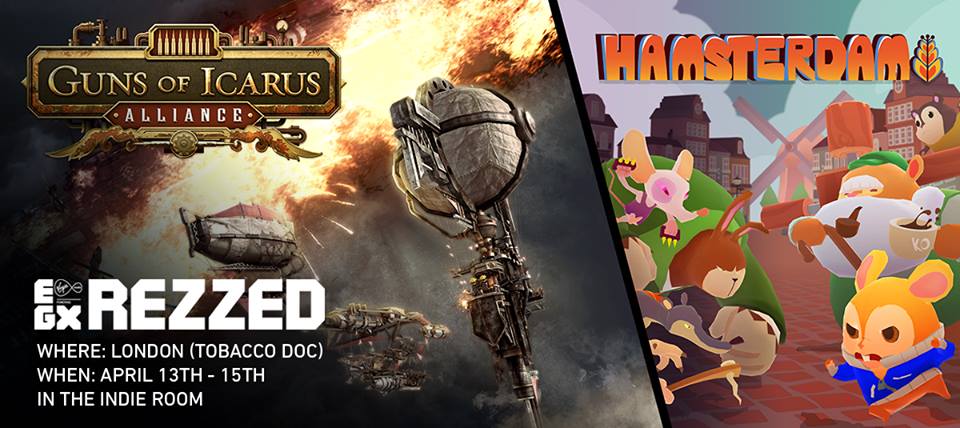 This year, just as last, we jumped at the chance to exhibit at EGX Rezzed at the Tobacco Docks in London. The charming steampunk aesthetic of the surroundings truly resonates with Guns of Icarus Alliance. Last year we had the absolute honour to announce the game's release, and Guns of Icarus Online's integration into the Guns of Icarus Alliance PVP aspect as a Thank You for all the support and dedication you guys have shown us over the years. We full heartedly believe that the people surrounding our game form one of the best online communities out there, so when we prepared for the dawning of the PlayStation 4 edition, we knew that we couldn't bring ourselves to split this playerbase. Although Windows and PlayStation tend to rarely function as a unit, we set ourselves the goal to form an Alliance, if you will.
---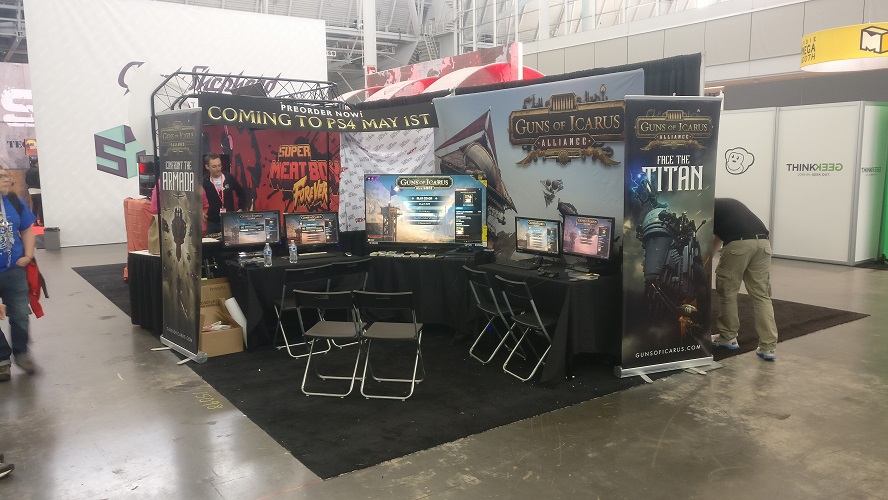 "PS4, PC, PS4, PC, PS4!" -Cameron "Kirk" Bajus
We had a blast at Pax East this year showing off Guns of Icarus Alliance ahead of the PS4 launch on May 1st! But for long time fans and new crew alike, we had an exciting twist. At every seat in our booth, we sat PC next to PS4 in the same match, on the same ships. Our setup was so seamless that many of our lovely convention guests didn't even realize it till we pointed out the controllers and keyboards in their friend's hands! Voice chat will also be working cross-platform between Steam and PS4, but with people sitting next to each other, people opted for real life voice chat 😀  There's a saying in game development, that the best features feel so natural players won't even notice them.
---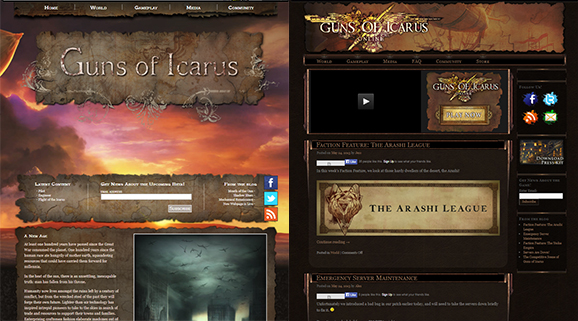 Wow. Guns of Icarus has come a long way just by looking at the website redesigns over the years. I remember implementing the longest running version (right) but never intended it to stick around for quite this long. Good thing this new design has finally launched. A new look for a new time, and a new audience!
---
This weekend – the 18th and 19th of February – we attended the PC GAMER Weekender with Guns of Icarus Alliance and got to exhibit our pride and joy: 
---
Hey there!
We're thrilled to confirm that we will be bringing the PlayStation 4 version of Guns of Icarus Alliance to PSX 2017, taking place this weekend in Anaheim! If you plan on attending, we would love to welcome you to try a demo of the game at Booths 4 & 5.
---