Welcome to your Open Alpha Announcement and Survival guide!
From August 1st to August 8th, ALL owners of the current Guns of Icarus Online will get to preview the PvE Guns of Icarus Alliance in our Open Alpha.
Everyone who pre-orders before August 8th will receive an exclusive badge for supporting us, this will include all kickstarter backers and previous pre-orders.  You can pre-order right now by following this link.
What can you expect in Alliance Open Alpha? Follow the jump to find out!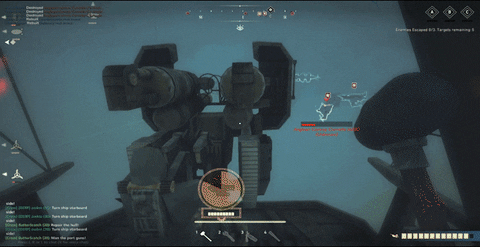 Fly and crew ships in fast-paced, objective driven combat against a dynamic tension setting AI. Retrieve cargo, destroy outposts, and assault bases in different missions. With each objective achieved, your factions also advance a step towards the conquest of territory, meaning new ships, weapons, equipment, and more.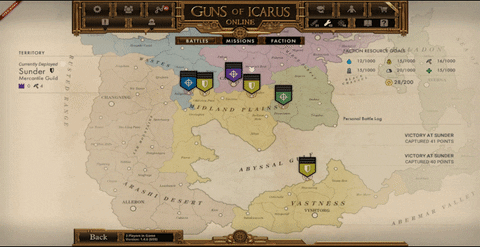 During this week, the First War of Icarus begins. This means that the actions you take while Alliance is open will count towards the lore and history being written. Play well and dominate the world!
The first thing you'll do when you start alliance is choose your faction. Four meaningful choices lay before you with the crafty Mercantile Guild, sagacious Order of Chaladon, honorable Fjord Baronies, or devious Anglean Republic.
Click on a marker on the World Map and deploy there for your next mission to start adding war scores. For every mission, you'll receive coins you can spend any territory you choose to help conquer it.
New Faction Ships
(From left to right)
Anglean Corsair – Anglean Republic battleship with powerful broadside guns, robust hull, and layout that tests engineer's platforming skills.

Chaladonian Shrike – Heavy armament on a small frame, the ship is highly maneuverable but more fragile.

Baronite Crusader – An unique ship that rewards an well oiled crew to maximize pain by going and forth from starboard to port.

Mercantile Magnate – A maneuverable ship designed for fire coverage on all sides. Nothing can flank this ship.
New Weapons
(From left to right)
Charybdis Gas Mortar—Chaladonians are experts in biological technologies have used their knowledge to cultivate the land.  Some experiments are found to have other uses, like highly effective corrosive gas clouds that slowly disable enemy components but also clogs their engines and prevents any further ship movement.

Heyoka Guided Missiles—Baronite fleets are comprised of many classic designs that harken back to the days of their lost ancestors.  This is also true of their weaponry.  Dust-covered blueprints produced guidable projectiles that will track to a target while in flight and crush enemy ship components.

Aten Lens Array—Everyone knows that not all crystals and precious stones are created equal, but only the Mercantile Guild has specimens of all of them in their coffers.  Forged from rare minerals, the special lenses in this weapon harnesses the fiery power of the sun to deal significant damage to heat susceptible parts.

Februus Weaponized Coil—The Anglean may not fully understand their findings in Ancient ruins, but they are experts in modifying them into deadly weapons.  As if calling upon the sky's thunderous lightning bolt, the weapon arcs from target to target and deals significant damage to mechanical components.
New Maps
6 new maps are already complete, with objectives such as running down cargo, defending giant bases, and raiding enemy outposts and strongholds.