The Alliance Open Alpha is open starting August 1st, and the skies will fill with new exotic ships, new lethal weapons, and new strange locations. It's a dangerous new world and you're going to fly in it.
Servers will go down at 12 am Eastern Monday and be back up at roughly 6 am Eastern. From 8/1 to 8/8, you will be able to experience 3 new Alliance game modes – Assault, Defense, and Retrieve – over six new maps. You'll find yourself flying and crewing on four new ships with access to 4 new guns in the service of one of four factions. All of these new contents will be in service to the first war of Icarus. Defend a homeland, launch a daring attack, recruit mercenaries, and build defenses as you and other players attempt to dominate the world. Can you rally your faction and turn the tide of the war?
How to Fight a War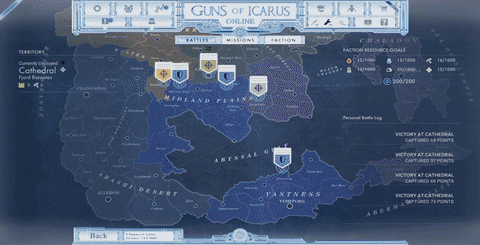 Every battle you fight will change the world around you as you apply points, recruit troops, and build defenses.
When you first start Alliance, you'll pledge to one of the four available factions. The honorable Baronies, industrious Anglea, sage Chaladon, or devious Mercantile.
After you've chosen your side simply press Play and begin!
By pressing play, the matchmaker will find you a match, and points will be applied to your faction's side, you'll progress through your faction (up to rank 4 for the Alpha,) and earn points for your war chest.
To specify where you want to fight for and apply your earned points towards your faction's war efforts, click World Progression on the main menu. From this map screen, you can spend from your war chest by click on a territory and then click on Reinforce to improve attacks and defenses of the territory. By click on the territory, you'll also dedicate your next battle there. Your war chest will increase in size as you rise through the faction, earning the opportunity to horde and use more resources for your side.
Discover everything available in Alliance and full patch notes below! Continue reading →